Extracurricular activities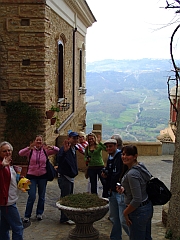 Our Italian language school in Southern Italy offers a diversified and interesting culture and leisure time programme that changes on a weekly basis. This enables you to delve into the country, culture and the way of life of the people.
Choose from the following interchanging activities:
a cultural video about Calabria
a guided visiting tour to get to know Tropea better
Halfday Excursions in the school's minibus to:


Vibo/Pizzo: castle in Vibo Valentia, castle in Pizzo and the church "Piedigrotta"
Reggio Calabria and the National Museum
Serra San Bruno
Stilo
Horse riding at the beach in Palmi
Capo Vaticano
Fullday excursions with the school's minibus to:


Discovery excursion into the Ancient Great Greek period: Locri & Gerace
Crotone, Le Castella & Santa Severina
Cosenza, Bisignano und Altomonte
Sicily: Messina, Taormina and the Greek Theater
Campania: Pompei and the Amalficoast (2 days with overnight) or only Pompei (1 day)
Mini day cruise: Aeolian Islands
Mini night cruise: Stromboli by night
Half day trip by motorboat along the "coast of the gods" to Capo Vaticano
Mountain bike trip to"Faro" (lighthouse) to Capo Vaticano or on a nature discovery tour along the wine route
Italian movies (with Italian subtitles)
Tasting of typical produce and wines of Calabria
Classical music concerts in school
Group dinner with Italian live music and Karaoke
Local festivals and folk music concerts

Every Monday the students get a new activity programme at the reception desk, the activities can then be signed up for.
For more information click on the following link