Italian Plus SPORT
Piccola Università Italiana - Le Venezie - Culture and Dolce Vita
Piccola Università Italiana - Tropea - The Italian language school by the sea
If you would like to combine education, professional Italian language courses with sport courses or a sporting activity, then you have come to the right place!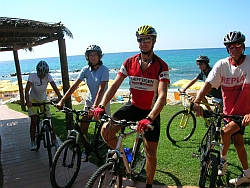 Alongside various kinds of sports such as jogging/running on the beach, swimming, tennis, golf, cycling and many more, we as an Italian language school by the sea offer you the chance to practise and learn various kinds of water sports. These programmes are carried out in collaboration with reliable and professional service providers.
The following Italian plus SPORT courses are a standard part of our course programme:
a) Italian language course plus Catamaran SAILING
b) Italian language course plus windSURFING
c) Italian language course plus DIVING
d) Italian language course plus MOUNTAIN BIKING
Click the corresponding link to find out more about the courses.