Italian Plus courses
Piccola Università Italiana - Le Venezie - Culture and Dolce Vita
Piccola Università Italiana - Tropea - The Italian language school by the sea
Combine your Italian language course at the Piccola Universita Italiana with your favourite activity!

At our language school you have the chance to take courses in windsurfing, Catamaran sailing, diving, mountain biking, painting or music, alongside your Italian language course.
Our Italian PLUS courses are designed to cover a variety of interests. This is especially useful for families or friends who would like to travel together but have totally different interests!
Our Italian PLUS courses enable your spouse to learn Italian in a relaxed atmosphere while you have fun doing your favourite sport, your children could do their sailing licence while you devote youself to your Italian business course. There is still enough time for everyone to get to know the cultural side of Calabria, to enjoy the sunshine on the beach and to go for a refreshing swim in the turquoise crystal clear sea.
This is just one example of how your individual language holiday could take shape.
There are no limits to the variety of combinations when you take a language course with us.
These are real Italian PLUS courses, where everyone can find their favourite activity!

The following courses have been put together for you:
1. Italian language courses plus SPORT courses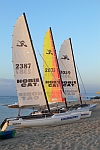 a) Italian course plus SAILING
b) Italian course plus SURFING
d) Italian course plus MOUNTAIN BIKING
2. Italian language courses plus ART courses

a) Italian course plus PAINTING (Oil colours, water colours and/or pottery painting)
b) Italian course plus MUSIC (piano, clarinette, violin)
Find out more about the courses by clicking the corresponding link.