Italian plus SCUBA DIVING

Piccola Università Italiana - the Italian language school by the sea

Diving is an elementary experience of nature where new underwater dimensions unfold. The intense colours and the feeling of floating make the diver experience close to meditative relaxation...
...crystal clear water and approximate vision of about 30m are only a couple of the characteristics of diving along the coastline of Capo Vaticano. Divings fans here can choose from over 25 diving spots along the Tyrrhenian coast in Calabria.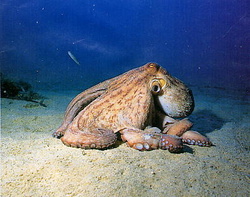 The dives are suitable for beginners and professionals of diving alike. The majority of diving spots are near the Capo Vaticano and are only 10 minutes from the diving centre by boat.
Scuba diving courses are for a maximum of 6 people per group. The lessons are organised and supervised by an experienced instructor and are divided into theory and practical parts, which include several trips to sea.
Practical diving lessons with the teacher take place according to weather conditions. In the case of bad weather conditions, the diving lessons will take place in a swimming pool.
The diving lessons are held in Italian. The handbooks are however available in English or German on request. Please let us know if you require this when booking.
The price of the diving course also includes costs for towels, equipment rental, diving book, Brevet-equipment and the trips in the dinghy to Capo Vaticano for diving.
The programme "Italian language course + scuba diving" is customised for all of those who want to take their holiday to the limits and to use it optimally. It is the ideal combination of cultural education, Italian "Dolce Vita", relaxation and the chance to learn or practise a fascinating kind of sport. Enjoy your holiday with all your senses! So get your diving gear on and get into the water with us!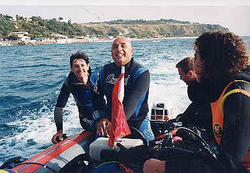 A scuba diving course in Tropea is a perfect addition to your language holiday in Italy. This combination is ideal for families with children, couples or friends with different interests. While you learn Italian, your fellow holiday-makers have the chance to complete a diving course.
Here are a couple of examples of the diving courses on offer:

5 theory and practical lesson units at 3 hours each; the course takes about 15 hours in total. Minimum duration of stay for this diving course is 2 weeks.
10 theory and practical lesson units at 3 hours each. The course takes about 30 hours in total. Minimum duration of stay for this diving course is 3 weeks.
Contact us about all other diving courses on offer in Calabria. This is only an excerpt from the diving course programme.
These scuba diving courses can be combined with all language courses from our
Italian course programme
.
Important: Our Italian courses can be booked all year round, however the diving courses are only available from June to October.
Important: The diving courses take place in Capo Vaticano. The transfer from and to the school is included in the price of your scuba diving course!