Who we are

Piccola Università Italiana - Le Venezie - Culture and Dolce Vita
Piccola Università Italiana - Tropea - The Italian language school by the sea
The team at our Piccola Universita Italiana is a group of motivated and experienced Italian teachers as well as a multi-lingual administration team.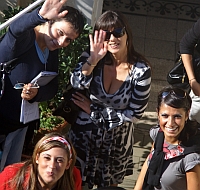 Your Italian teachers at the Piccola Universita Italiana:

All Italian teachers are native speakers of Italian and have of course completed their university studies in literature or language. In addition, our teaching staff undergoes a training by our Italian language school and is put together in a way that the needs of our students can be optimally catered to. The social competence of our Italian language teachers is of great importance to us. Our team of Italian teachers is specialised in leading foreign students, business people and friends into the world of the Italian language and culture.
Our teachers make Italian lessons come to life, lessons are full of variety and efficiency in a very personal and communicative environment. Due to strict limitations on the number of students in the group courses, it is possible to achieve a personal touch in these special lessons. On top of this, our language students are placed into one of 15 levels of language competence. In this way, an exceptionally personal and exact placement at the right level is guaranteed.
The team of Italian language teachers under the guidance of Antonio Lamantea and Emilia Conace presents itself:
Dott.ssa Emilia Conace
Carlotta
Filomena
Grazia
Lucia
Roberta
---
Your contacts in the administration:
Our administration team, under the guidance of Director Antonio Lamantea is here to make sure that the students are looked after in a correct and friendly manner, before arrival and here at our school. We want our students to feel comfortable here, to have fun, to enjoy an interesting culture, excursion and sports programme. It is our job to see that the whole organisation of our Italian language school runs smoothly and that the small and large wishes of our student are fullfilled to their total satisfaction.
We are here for you:
Managing Director: Antonio Lamantea
Secretary's office: Daniela Redder
Marketing: Simone Rainer