The journey
The transfer to and from Lamezia Terme or to and from the train station are included in the inscription fee.
If you would like to take advantage of our transfer service, please let us know in good time, ie; at the latest on the Friday morning before your arrival, we need to know the exact time of your arrival and your flight/train number.
On the day of your arrival a blue car or mini bus with www.italianculture.net written on the side will be waiting for you in front of the airport or train station. Please go straight to the driver who will have a list with your name and arrival details. The transfer service will then take you directly to your apartment in Tropea.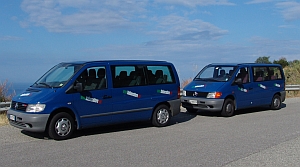 So nothing can go wrong, even in the event of unpredictable changes in plan, you will also be given our emergency number which you can use in case of any difficulties that may occur in the course of your journey.