The incidental costs in Tropea are much lower than in comparison to other language holidays in Italy.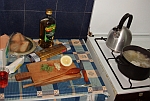 The most economical way of all is to do self catering during your language holiday. Our aprtments in tropea come with all fittings, some even have an oven. The market, the local grocers (Alimentari) and the supermarkets in Tropea offer all you need to enjoy tasty Mediterranean cuisine.
APPROXIMATE PRICES AT THE MARKET AND AT ALIMENTARI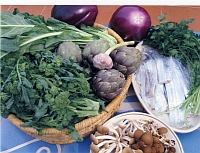 Cheese ( Peccorino fresco o staggionato) approx. EUR 10.00 per kilo
Sliced raw ham (Prosciutto crudo) approx. EUR 14.00 per kilo
Tomatoes (Pomodori) approx EUR 1.20 per kilo
Onions (Cipolla) EUR 1.00 per kilo
Pasta EUR 0.80 per pack
Bread (Pane) EUR 1,00 per kilo
Sword fish (pesce Spada)
Minced meat (carne macinata)
Please note that tap water is not for drinking and we recommend that our language students buy water in the 2 litre containers available in supermarkets. One bottle costs about 50 cents.
It is of course difficult to tell you a total amount of incidental costs that will occur during your lanaguge holiday in Tropea as it will depend on what you cook but from EUR 90.00 per week you can live very well in Tropea.
APPROXIMATE PRICES IN RESTAURANTS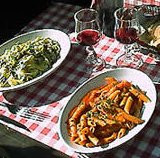 Restaurants normally have a EUR 1.50 to EUR 2.00 cover charge.
average prices for breakfast:
a caffe latte or cappuccino with a delicious Cornetto (croissant filled with jam, chocolate cream or cream) costs about EUR 2.50
- Pizza slice (pizza al taglio) from EUR 1.00 per slice
- Spaghetti or risotto (primo) in a restaurant from EUR 6.00
- Soft drinks cost about the same as in other European countries and a bottle of water ( 1L) costs EUR 2.00
- Beer 0.5L ( birra media) costs about EUR 3.00
- Wine, especially house wine is offered in restaurants at a fair price, half a litre of house wine is available for EUR 5.00
- Depending on vintage and quality a bottle of the best know Calabrian wine Cirò can be bought between EUR 10.00 and 15.00
average costs for dinner:
- Pizza with wine or beer can be found from EUR 7.00 (eg in the Pizzeria Vecchio Forno)
- Dinner with wine or beer, antipasti (cold starter) Primo (spaghetti or risotto) from EUR 18.00
- Dinner with beer or wine, antipasti (cold starter) Primo (spagehetti or risotto) and Secondo (meat or fish) about EUR 23.00
We hope you could get an impression of incidental costs from this list. If you have any further questions about incidental costs during a language holiday in Tropea, we would be happy to advise you!