Italian course programme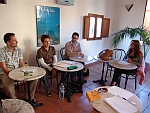 Our classic
group courses
can be started
every Monday
at every level. Our language students at our Italian language school in Tropea are guaranteed flexibility!
We offer
Italian courses for beginners
every Monday too!
Also our
customised Italian courses
on special topics can be started every Monday carried out in the framework of classic standard courses.
The
special Italian programmes
"L'Italiano navigando" and "Active Silver language courses" can only take plce with a
minimum number of participants
and will only take place in pre-determined weeks.
Our Italian language school is open all year round, please observe public holidays and our school's holidays, more information can be obtained in the Italian language school's category
Public holidays/Our school's holidays
.