Tropea - Cultural activities in Calabria

Piccola Università Italiana - The Italian language school by the sea

Tropea's geographical location and its history are ideal if you want to discover Southern Italy. Worthwhile excursion destinations are eg: the town of Reggio Calabria and its archaeological museum, a trip to the volcanic island of Stromboli which still has an active volcano with the same name or visit Taormina in Sicily, full of culture.
A video, which we show on the evening of your first day with us, gives you a lot of different impressions of this area, which is rich in contrast and the video will definitely give you some ideas for your own journey of discovery.
As well as cooking courses which reveal some secrets and refinements of southern Italian cuisine, the school also organises wine sampling with information about the Calabrian wine regions and grape varieties and tasting of some of the typical products of the region is also on offer. Try Pecorino cheese with onion mousse and accompany them with a good glass of Calabrian red wine whilst enjoying classical music. In our Italian language school music evenings for traditional or modern Italian music are regularly organised. For all who feel musically inspired by Tropea we offer water colour and oil colour painting courses (theory and practise).
The diversified excursion programme takes you to the most interesting regions of Calabria, along the Tyrrhenian coastline with its magical viewpoints, find your way around the excavation site at Magna Grecia and let yourself be inspired by the luscious green of the countryside and the contrasting turquoise sea, discover Norman palaces, sheer impregnable medieval settlements on high rocky plateaus, hike through the spectacular scenery to small fresh water basins in the middle of a national park, you too will get to know the history and background of Calabria.
The excursions a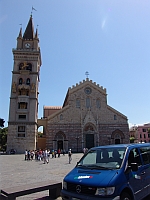 re offered on a half day basis during the week as a supplement to lthe Italian lessons and are available on a full day basis at the weekend.
The full day trips take you to other regions of southern Italy too. North of Calabria is the region of Campania where Pompei is a must see! The region of Sicily is further south and wonderful and interesting excursion days can be spent there at the Greek theatre in Taormina or listening to the chimes in Messina.