Travelling to Calabria by plane
Piccola Università Italiana - The Italian language school by the sea
The fastest and most comfortable way to travel to your language holidays in Calabria is without a doubt by plane.


The largest airport in Calabria, Lamezia Terme, is only 60km away from us (50 minutes by car). An alternative airport is in Reggio Calabria, but this one is however 120km from Tropea (2 hours by car).
We would be happy to assist you by booking an
affordable flight to Lamezia Terme
from the airport of your choice. Contact us! We can send you an offer for your language holiday plus flights.
We would be happy to be of assistance!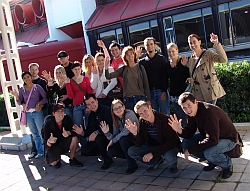 Students at Lamezia terme before departure!
For any further questions you may have, don't hesitate to call us or send us an E-Mail.